NEWS
2019-08-26
What do Polish scientists think about sharing research data?
Employees of the MUG Main Library carried out a survey at 8 medical universities in Poland. The research was aimed to verify the level of scientists' knowledge about research data management as well as attitudes and beliefs that guide the decisions they make about opening research data.

The results of their research will be used to prepare a training program as part of the implementation of the Polish Medical Platform - a portal for knowledge and research potential management.

The MUG Main Library, meeting the recommendations of the European Union and the Ministry of Science and Higher Education on open science policy, shares their research data in the Zenodo repository.

See more details
---
2019-06-28
Opening hours during holidays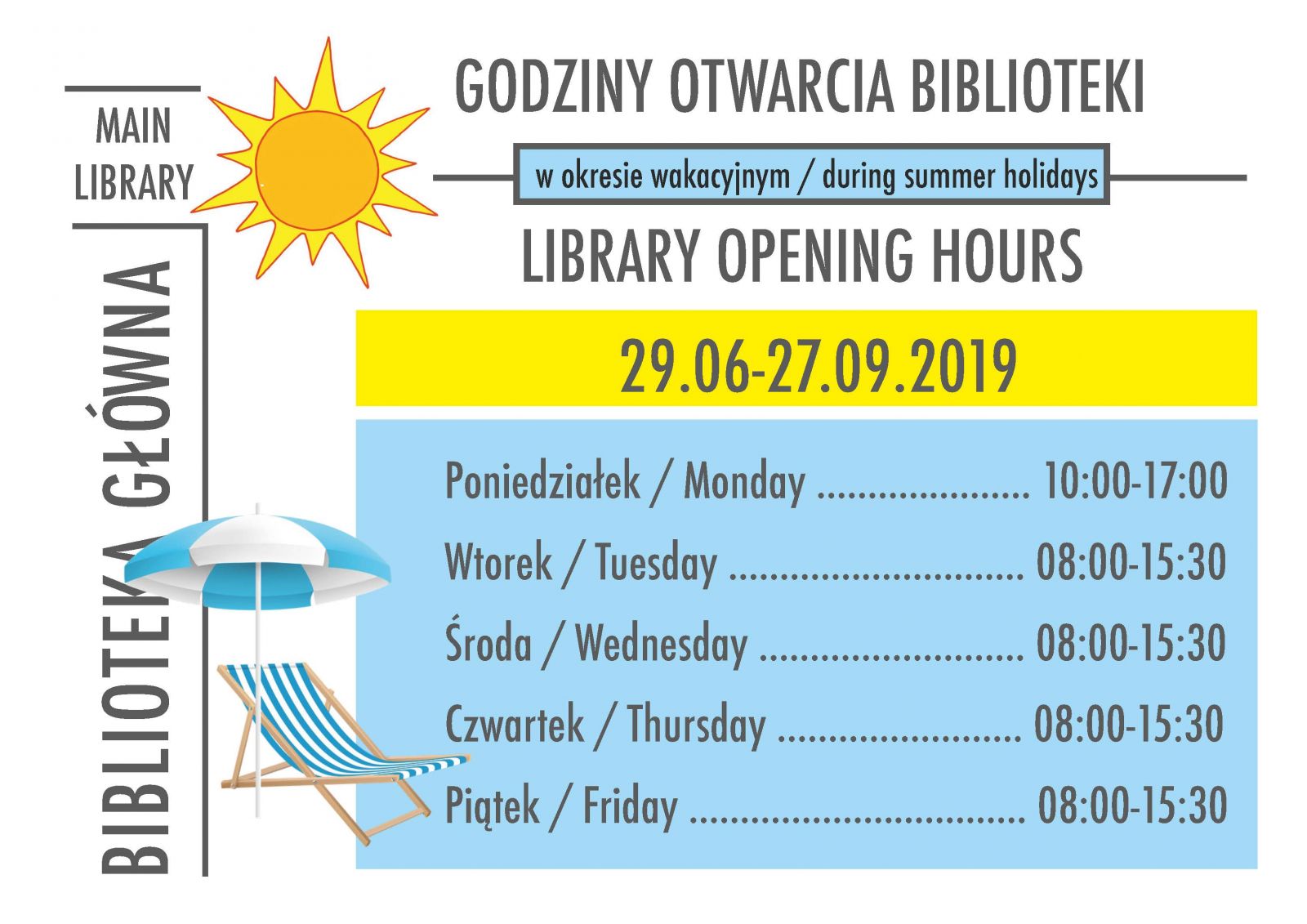 Starting from 28.09.2019 (Saturday) opening hours for academic year will be restored (Saturday – 9.00-15.00, Monday – 10.00-19.45, Tuesday-Friday – 8.00-19.45)
---
2019-05-06
JoVE - test access till 04.06.2019
JoVE (Journal of Visualized Experiments) and the MUG Main Library offer an Institutional 30-day trial access to the entire content of JoVE. MUG's users gain unlimited access to the first and only (from 2006) peer-reviewed video-article journal in biology, chemistry, medicine and engineering. Please, feel free to use around 10.000 video-articles from Video Journal and around 700 visualizations from Science Education.
Video Journal is a journal of 13 individual sections with an aim to increase the productivity of research.

see VJ User Guide

Science Education is a database of 9 sections with an aim to increase the productivity of education while working with students.

see SE User Guide



Why to use JoVE?


150+ new articles every month
17.000+ authors from world-leading labs
articles are Indexed in Web of Science, PubMed, Medline, Scopus, etc.

Test access will be available till 04.06.2019
---
2019-04-30
ELECTRONIC REQUEST FORM – new facility in Reading Rooms!
We created an electronic request form for ordering books or archival magazines from the stack. This new facility is active from May 1, instead of a traditional paper request form.

In order to book items from the Library stack to the reading room:

find them via the online catalogue,
click on 'Order to the reading room',
fill in an electronic request form.


REMEMBER! In case of magazines, you should also add information about the year, volume and issue of the item you are looking for.


Ordered items will be available in the Reading Room 1 in 20 minutes and will be waiting there for the next 2 days.
---
2019-01-23
UpToDate - access via proxy server
We are pleased to announce that UpToDate database is again available in MUG network or via proxy server, also on mobile devices.

UpToDate is the evidence-based clinical decision support resource from Wolters Kluwer, trusted at the point of care by clinicians worldwide.

Read more about this database.
---
2019-01-22
Pathologic Basis of Disease / Textbook of Histology
---