NEWS
2022-06-29
Opening hours during summer holidays 02.07-30.09.2022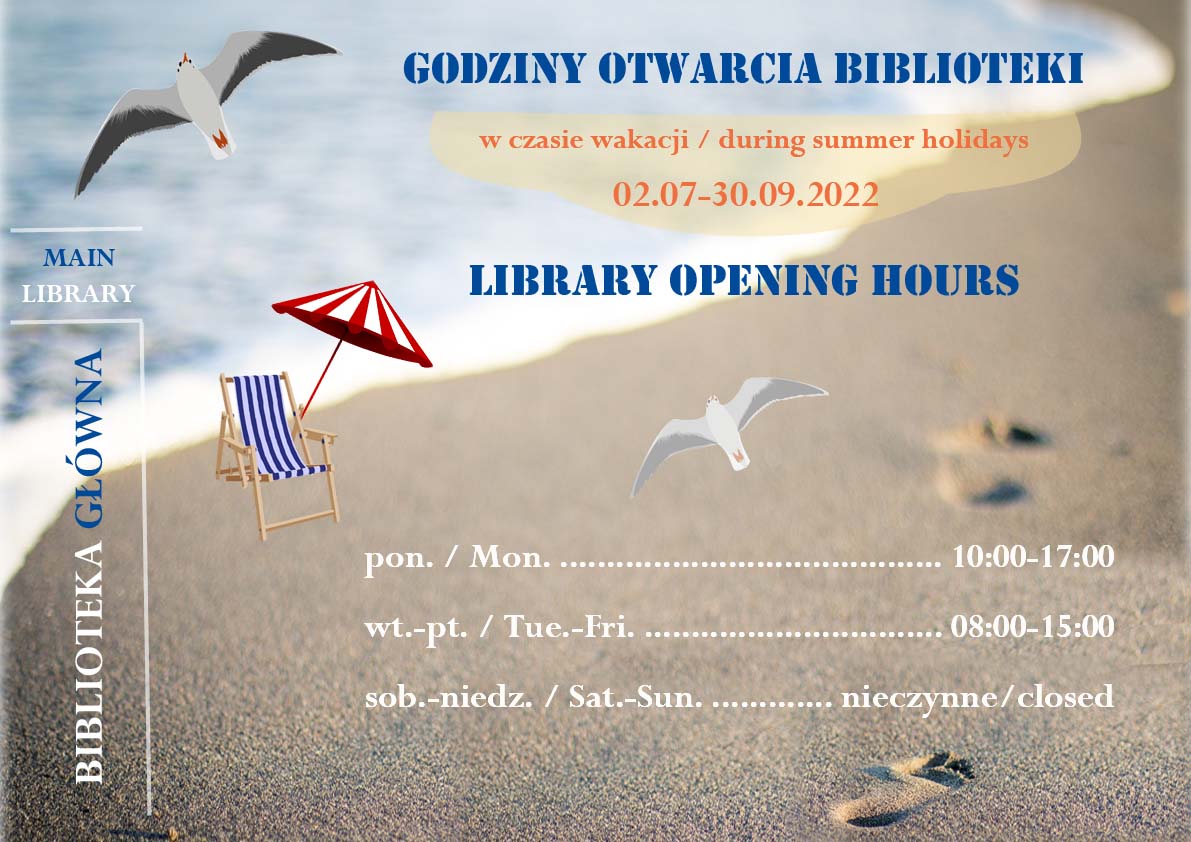 ---
2022-05-30
JoVE Education - test access till 30.06.2022
JoVE Education - a library of videos illustrating key concepts and lab techniques in science, engineering, and medicine that helps educators worldwide achive their strategic teaching objectives, boost student engagement and improve learning outcomes.


The database contains three modules:

JoVE Science Education - a revolutionary video library dedicated to teaching scientific and clinical fundamentals through easy-to-understan video demonstrations.

Over 500 videos on topics commonly taught in science courses that capture key conceptual and methodological details that are difficult to visualize using text alone. Videos have text translations and subtitles in over 10 languages.





JoVE Core - video textbooks for introductory courses that can serve as effective primary or supplementary teaching resources.

Key concepts are brought to life through high-impact animations and scietist-in-action videos of experiments conducted in laboratory settings.

JoVE Lab Manual - curriculum-focused video resources that support teaching and learning process of commonly taught introductory labs.

Three separate videos with step-by-step instructions for each lab experiment illustrate lab prevention for instructors, key theoretical concepts, and a protocol for students.



Test will be active till 30.06.2022.
---
2022-05-11
Wolters Kluwer Quiz for Libraries Week – chance to win medical textbooks!
---
2022-05-06
Libraries Week (8-15.05) – feel invited!
As we celebrate the annual Libraries Week (May 8-15th) with the official theme "Library – the whole world in one place", some spectacular events will take place in the MUG Main Library.


On Wednesday, May 11th, we would like to invite you to participate in the cross-cultural communication workshop How to be culturally intelligent and why worth trying? run by Professor Natasza Kosakowska-Berezecka. The event will take place at 1 p.m. in the Reading Room no. 2 in the MUG Main Library and will be held in English. You can count on more attractions after the meeting during the "Intercultural Integration Coffee". Thanks to cooperation with our partners – SASS, Resource Team, Phi Delta Epsilon, MedHum, Welcome Point, Gazeta GUMed and GUMed Museum – you will get the chance to compare medical bags from XIX and XXI century, participate in numerous funny activities and have a less formal chat. Snacks – from all over the world – included.


From May 9th the exhibition-surprise "72 in 1" will be presented. We are sure that – according to libraries week theme – it is possible to create the whole world in one place. You won't need 80 days to explore it, here it will take just a week!

About workshop:

We live in the global world that is challenged with global problems – the pandemic, climate crisis, migration and refugees seeking shelter from horrendous conflicts and wars. We are all interdependent and if we do not learn how to cooperate across nations, cultures and regions we will not come even close to solving any of these problems. Cultural intelligence is one of the key social competences necessary to foster such cooperation and a necessary asset if you work in cross-cultural setting. During this 1,5 hour meeting we will focus on how to be inclusive and open to diversity and develop our cultural intelligence that can be used in solving interpersonal conflicts.

Natasza Kosakowska-Berezecka has a PhD in Psychology and works as an Associate Professor in the Division of Cross-Cultural Psychology and Psychology of Gender at the University of Gdańsk. Her main area of practice and research is gender equality, diversity and work-life balance within the area cross-cultural psychology and her special interests are mechanisms of bias, social change and organizational cues fostering social capital and diversity within organizations and societies across the world. She lectures at Polish universities but also abroad (Anglia Ruskin University, Cambridge; Arctic University of Norway, Tromso; University of Brunel, Uxbridge, London; Universidad de Granada, Spain; Delhi University, India; University of Geneve, Switzerland). As diversity expert she also co-authored the Integrative Model for Migrants for City of Gdańsk.

Hope to see you in the Library!
---
2022-04-26
Library opening hours 30.04-03.05.2022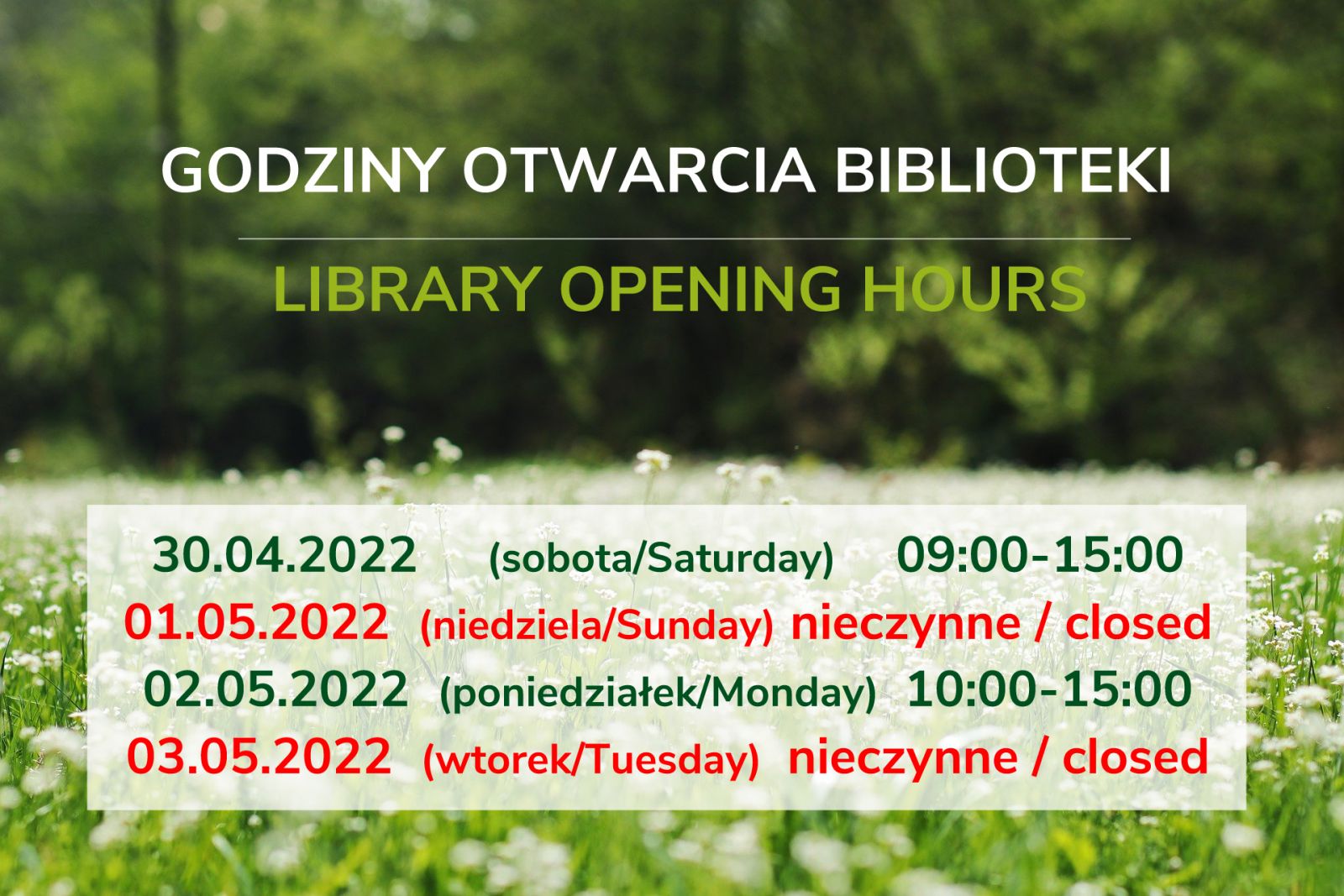 ---
2022-03-04
New rules for the use of MUG's Main Library collections from March 7th, 2022
New rules and regulations for using our resources are applied from March 7th, 2022.


Lending Unit and Learning Zone:

Mon: 10:00 a.m.-7:45 p.m.
Tuesday-Friday: 8:00 a.m-7:45 p.m.
Saturday: 9:00 a.m-3:00 p.m.
Sunday: closed





---

The Learning Zone is open for students and university employees. There are general rules that apply in areas of the Library such as:

all study rooms are now available as follows:


Study rooms 4&5 – 1-3 people in each (in person at the library desk in the Reading Room 1 or in the Lending Unit up to maximum 7 days in advance)
4 remaining rooms – without reservation

appropriate nose and mouth covering must be worn in the Library and hands must be disinfected before entering the Learning Zone and the collections area;
to use a computer workstation with the MUG's master's and bachelor's theses database or arrange individual consultations in the Scientific Information Reading Room you should send an e-mail (containing your name, surname, the number of your index or the number of your MUG Library card) to biblioteka.informacja@gumed.edu.pl or call 58 349 10 45, no later than the previous day.


Borrowing books

Books from the store room are ordered via the online catalogue and then collected from the Circulation Desk.


Returns of books

This can be done:
- in person at the Lending Unit,
- by means of the book drops available: in the vestibule of the main entrance to the Library building within the Library opening hours, or at the site entrance from the Dębinki Street from 6 a.m. until the opening of our Library,
- sent to the address:

Biblioteka Główna Gdańskiego Uniwersytetu Medycznego
Wypożyczalnia
ul. Dębinki 1
80-211 Gdańsk


You are asked to protect books against damage.


Settlement of fees

Persons who have an unpaid fee for a late return (the amount to be paid is shown in the Virtua reader's account, in the account tab) are asked to pay the fee in person at the Circulation Desk (by means of payment card only).



We strongly recommend you follow the announcements on the Main Library website.

Scientific Information Reading Room:


biblinf@gumed.edu.pl


Lending Unit:

biblwyp@gumed.edu.pl


---